Leipziger Tanzhausfest – English Summary
Leipziger Tanzhausfest is sold out!
from 21st to 24th of May 2020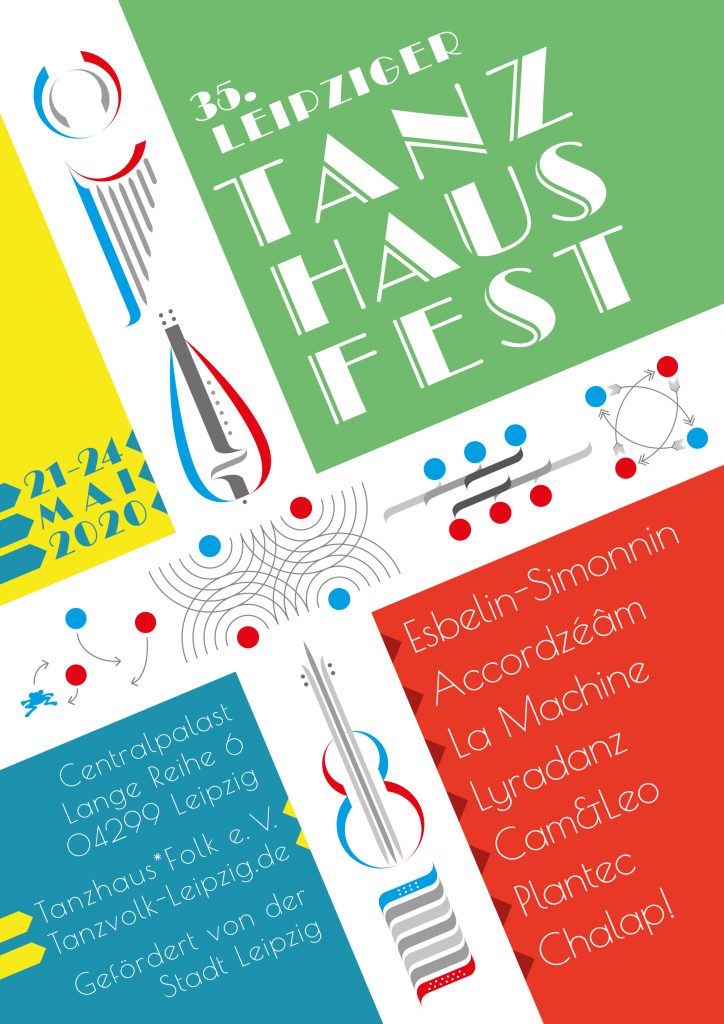 Since 1986, each year the folk community celebrates the Tanzhausfest in the city of Leipzig. A festival dedicated to the dancing part of the European folk movement. From the start, the Leipziger Tanzhausfest has been an international festival, always trying to gather bands from all over Europe for four days of joy and dancing. Since, the Leipziger Tanzhausfest is a long-standing traditional festival a whole bunch of bands, popular as well as lesser known ones, already participated. Some examples from outside Germany include the Oyster Band (1986), Blowzabella (1989), Ar Re Yaouank (1996), Skolvan (2000), Dikanda (2003), Dobranotch (2005), Gonnagles (2010), Triple-X (2012) and Té (2016). Some of them are real dinosaurs, they don't even exist or play for dancing anymore.
Since, the festival is organized by a small open group of people, who also happen to be enthusiastic bal folk fans, bal folk dances and music are the main theme of the festival. But the "all styles of folk" part has never been abandoned. You will always get the chance to dance other common and uncommon European dances. Last year for instance, we spiced the festival with Sorbian and Italian dances.
Open sessions are possible after workshops, throughout the evenings and all-night long.
---
Our line-up in 2020:
Accordzéam (FR)
Cam & Leo (FR)
Chalap (FR)
Lyradanz (IT)
La Machine (FR)
Plantec (BZH)
Duo Simonnin/Esbelin (FR)
Le Grand Lyradanz (FR/IT/BZH)
---
You can find the detailed programm on a separate page in german and english.
This year we also offer a workshop for diatonic and chromatic accordion. The teacher will be François Heim.
The festival will take place in the Centralpalast in Leipzig Stötteritz. The venue has a small bar, that will provide us with drinks and a kitchen with great food. We also provide some sleeping bag slots in a near by youth center. With 5 Euro for each night think of it as a very undemanding solution without a shower but a great kitchen, fireplace and a beach volley field you may use. You can get yourself a place on a camping ground, in a hotel, youth hostel or something alike, too. Be sure to book early, because a lot of tourists like to visit Leipzig during this time of the year. Or you can ask your bal folk friends from Leipzig and/or Germany, if they have a spot for you. 🙂 For most of the guests that's the way to go.
If you have questions regarding the festival, feel free to send your questions to info@tanzvolk-leipzig.de. No need to write in German. English and French are fine. Even Swedish, Italian, Latin and Ancient Greek may be possible. For Polish, Dutch, Hungarian, Esperanto and Russian it may take us some days until we catch a translator… 😉
Please book you ticket online. There might be no tickets left at the venue!

We offer tickets with various discounts. People from Poland, Czechia and similar countries with a lower average income compared to Germany only pay half the price. From time to time we will raise the prices, so get your ticket early.
We're looking forward to dancing with you!
Further information on the Tickets
Where can I buy a ticket?
>>> Here you can buy your ticket <<<
The Price?
The venue this year is smaller and the bands are more expensive. So we calculated the prices to be:
100 € full price
67 € with a discount of 33%
50 € with an advanced discount of 50%
Can I get a discount?
In opposition to some other festivals we have a very pronounced discount system in Leipzig to ensure that everybody, regardless of income, can attend the events of our association. On our regular evening balls throughout the year we already switched to a "pay what you want"-system. But we're not ready to apply this experiment to our biggest festival.
Entitled for the -33% reduction are: pupils, students and trainees from 16 to 27 years, pensioners and unemployed persons.
Entitled for the -50% reduction are: owners of city- or family passes, persons with a serious impairment as well as their assistive personnel. Also people from lower income countries like Poland or Czechia. (City- or family passes are certificates to prove a low income and are used to get reduced prices at museums, concerts etc. in Germany. They might also exist in your country.)
Children, who have not reached their sixteenth birthday, pay no charge. But they need an accompanying adult.
All discount entitlements have to be shown on arrival at the festival. If you can't do that, you will have to pay the full price.
These discounts are made possible through the funding of our festival by the city of leipzig.
I need more information!
Send your mail in any language to info@tanzvolk-leipzig.de